Who is Brad Scott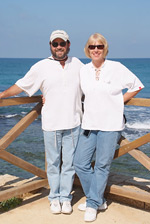 Brad has been teaching the Scriptures since 1971. Raised in Missouri, he began in the Lutheran system and was taught traditional "Christian" theology. In 1978, he began his studies in the Greek language and soon discovered that the well-defined Greek structure was NOT so well-defined. He soon began to learn the Hebrew language, and sat at the feet of Rabbinical scholars, much the same way Sha'ul may have done so! Having been trained that the New Testament was written in Greek, Brad discovered through other scholars of the New Testament and the Dead Sea Scrolls that the New Testament may well have been written in Hebrew. He has been teaching the Hebrew language and culture since 1983. Brad is an ordained minister through a non-denominational pastoralship.
Brad is a professional musician, as well, and enjoys leading or just participating with Praise and Worship teams by playing keyboard and singing. Although he plays all styles of music, Brad enjoys the Messianic style best.
Brad is available to conduct seminars, lead praise and worship, perform Passover seders, etc.
Although he may be vertically challenged, he does have a good sense of humour.
Shalom Alecheim!